Internal gears
VIKING PUMP has been a world leader in the production of rotary displacement pumps with internal gears for over a century. A simple operating principle, that is an eccentric rotor with respect to the body which drives an idle gear inside, makes the pump self-priming and suitable for conveying any fluid even at high viscosities. Present on the market with a complete and versatile range, VIKING pumps are available with all types of seals, from packing to simple or double mechanical seal, as well as magnetic drive. The magnetic joints, among other things, are produced and guaranteed by VIKING PUMP. Moreover, with the possibility of adjusting the axial alignment and with a correct rotation speed, precision dosages can be obtained. Thanks to the construction features, the high quality materials used and the experience based on countless applications, VIKING PUMP represents the most reliable choice for both installers and users.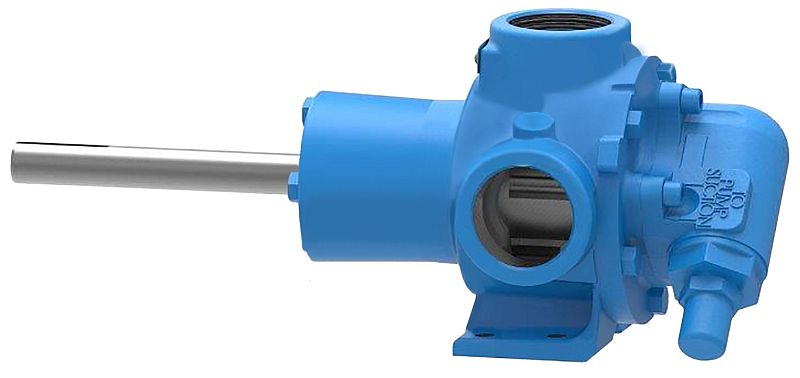 Viking General Purpose
32-432 Series
VIKING General Purpose internal gear pumps are the most economical solution for a large number of applications. They are available with mechanical seal or packing and executions with shaft or flanged output for direct coupling to an electric motor. Possibility to support the shaft with a ball bearing base to operate in more critical flow / pressure conditions, as option can include jacket on the head for temperature control of the pumped product or the by-pass valve for safety.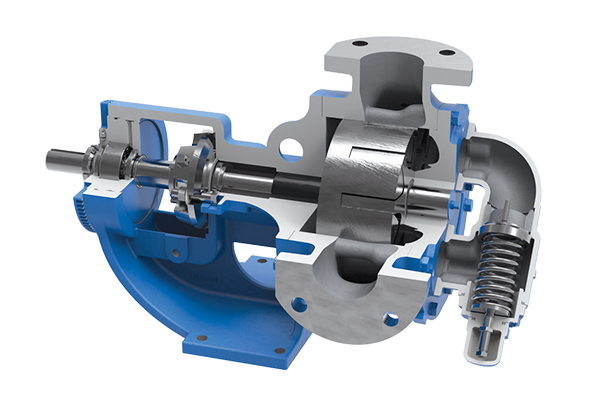 Viking 'Universal'
4124-4123-4127 Series
The gear pumps of the VIKING 'Universal' series represent the solution to all pumping problems thanks to a wide choice of construction materials and configurations. Complies with API 676, the packing box is designed to connect DIN 24960 unified mechanical seals in each version. The design guarantees reliability in services with high pressures and high temperatures. The "back – pull out" structure allows easy maintenance without removing the pump from the pipes. Options: jacketed head, by-pass, treatments for abrasive products.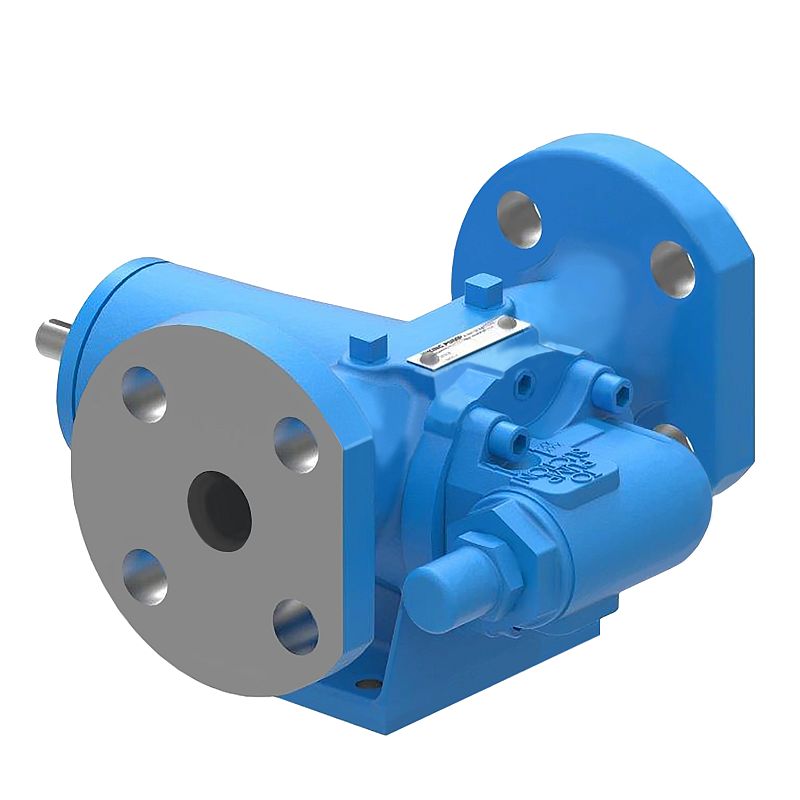 Viking 'Heavy Duty High Speed'
4195–4193–4197 Series
The gear pumps of the 'Heavy Duty High Speed' VIKING series have been designed to allow direct coupling of the pump to 4 and 6-poles electric motors. The reliability of high-speed performance is made possible by a shaft bearing system with two ball bearings. Low installation costs are guaranteed by the absence of coaxial gear units. Available materials are: Cast Iron, Carbon Steel and Stainless Steel. Available head jacket for temperature control of the pumped product or by-pass valve.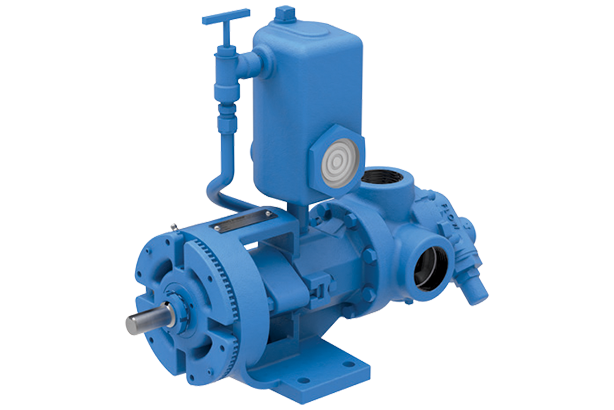 Viking
4924 A Series for refrigeration and volatile liquids
The internal gear pumps of the 4924 A series, created to pump ammonia, can also be used for fluids with high vapor pressure, both in refrigeration and transfers operating at low rotation speeds to minimize flashing phenomena. The 4924 series features double mechanical seals with pressurized packing box and other fluxing barrel and a return by-pass valve incorporated in the head.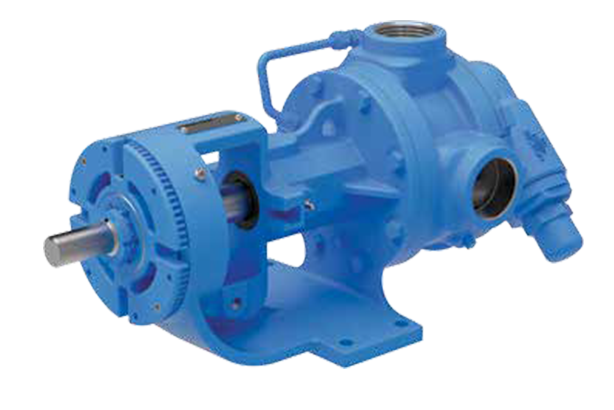 Viking
4624 B Series for abrasive products
The 4624 B series gear pumps are designed to convey abrasive products. This series is equipped with parts subject to wear in Tungsten Carbide and friction faces in mechanical silicon carbide, thus obtaining longer life of the pump and lower running costs. Suitable for paints, inks, sludges and asphalts, it is available with surface hardened parts. Mechanical sealing system with external flushing. The easy adjustment of the alignment as a function of viscosities makes the 4624B series ideal for a variety of applications.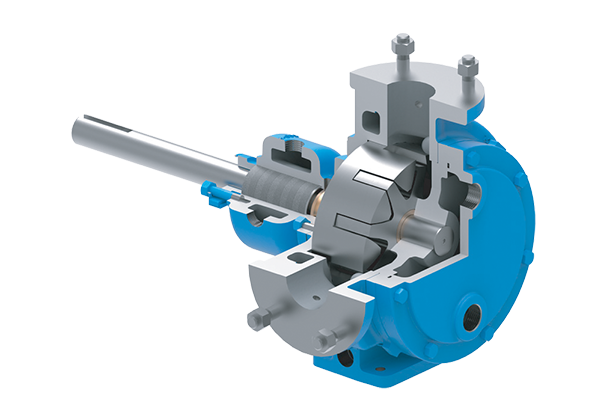 Viking 'Asphalt-jacketed' series
The 'Asphalt-jacketed' gear pumps series are designed to move liquid tar with the presence of solids. Thanks to the possibility of being completely heated, with steam, diathermic oil or electrically, they can be used at high temperatures. The use of Tungsten-Carbide components allows the pumping of liquids containing abrasive solids. Cast iron in a packing version.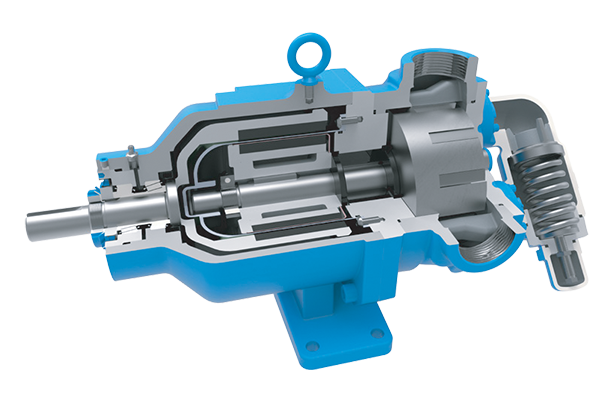 Viking 'Mag-Drive' series
'Magnetic-Drive' gear pumps are designed to transfer hazardous, difficult to be contained or high-value liquids, and are ideal for caustics, isocyanates, solvents and mercaptans. Available materials are: Cast Iron, Carbon Steel and Stainless Steel. In the standard version it is possible to provide jackets on the head to control the temperature of the pumped product. The 'Mag-Drive' series includes a wide range of flow rates, ANSI or DIN flanges, IEC or NEMA motors, compliance with ATEX and API 676 standards. In addition to the ability to run dry for short periods, a robust construction with optimized support allows operation up to pressures of 14 Bar.